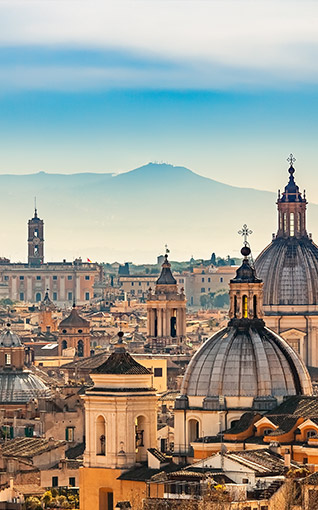 From Roman ruins to Renaissance palaces and buildings
erected during the Christian era, Rome is an invitation to step back in time!
2 NIGHTS IN BB - 3* HOTEL
Hotel Varese (or similar)
Arrival at Rome airport. Welcome by your local English-speaking guide. Transfer to hotel with panoramic guided tour of classical and ancient Rome. The capital has preserved many treasures from its glorious past: the Forum, the Colosseum, the Palatine and the Pantheon, the Arch of Constantine. Arrival at your hotel. Installation in your room. Dinner on your own. Overnight accommodation.
Breakfast at the hotel. Free day and meals. Overnight accommodation.
We have breakfast. Departure for Nîmes. Guided tour of the city, including entrance to the Arènes, the best-preserved amphitheatre in the Roman world, and on to the Mai son Carrée. Then a stroll through the Jardins de la Fontaine. Lunch. Then on to the Pont du Gard, one of the wonders of Antiquity, a grandiose 1st-century structure. Free visit of the various museum areas. Return to the hotel, dinner and overnight accommodation.
This price includes
Rome à la carte
This price includes
- Accommodation and breakfasts (2 nights) based on half-double
- Coach transfers airport/hotel/airport
- Guided panoramic tour during airport/hotel transfer
- Assistance at Rome airport on arrival and departure
- 1 complimentary half-double based on 25 paying guests
Rome à la carte
*Price from, price/pers. in half-double. Based on a minimum of 30 paying adults. Subject to availability.